Known for its high-quality products and excellent customer service, Savvidis SA is a nationwide online and offline company, providing unique watches, jewelry, and luxury accessories.
With more than 20.000 watches and 200 brands, Oroloi.gr is the largest watch e-shop in Greece. Through careful planning and data review, we implemented cross channel online advertising, achieving a significant increase in profits.




Intense competition
Due to the holiday season, December is righteously the best yet the most demanding month for top-selling seasonal products online and offline, as sales flourish and competition rises dramatically. Therefore, a decrease in prices is expected, with profit margins to be sacrificed. On top of that, there is a strong demand for online impression share, which results in increased ad costs.
A large number of products with different profit margins
The inventory consists of a variety of products from different brands, therefore there isn't a fixed profit margin, making it difficult to maintain steady profits over time.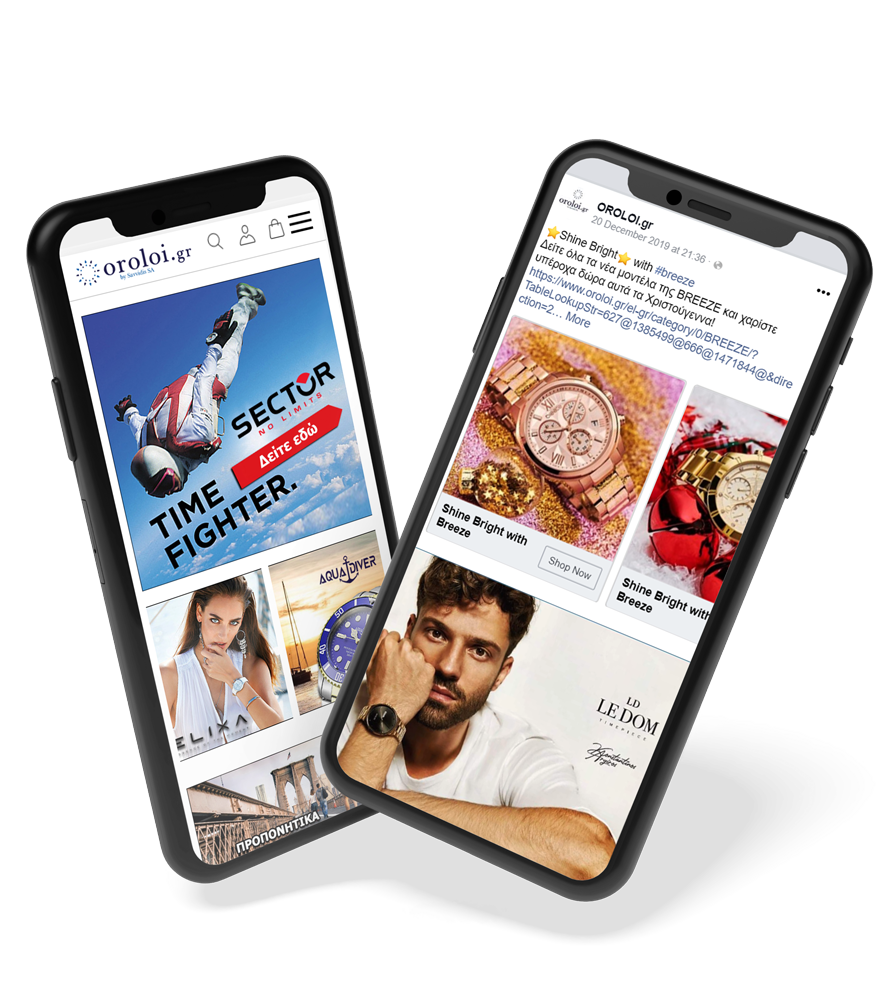 Google Display & Video 360
We firstly made sure to plan ahead by utilizing Google Display & Video 360 early, in order to build a solid customer base, which could be easily accessed when the correct time presented itself. Until December, Google's algorithm was fully optimized, and we were able to approach thousands of people with a low CPA.
Google Shopping ads & Search ads
We made the most of the existent dynamic pricing algorithm of Protean Technologies and managed to optimize shopping ads, as well as search ads campaigns, based on the profit margins of each product group. We also enabled Google's Shopping algorithm to smoothly allocate the budget appropriately, while enhancing the performance of bid optimization. As a result, sales and profitability were significantly increased.
Social ads
We created prospecting ads, which were displayed dynamically to users based on their activity and interests. Using Facebook's algorithm, we could perfectly match each ad to the ideal profile, increasing the possibility of conversions. We also allocated the budget and bidding efficiently, based on the profit margins to achieve growth in sales and profits.
The results
(December 2019 VS December 2018)
Working with Koolmetrix exceeded our expectations. Koolmetrix is a performance-oriented agency that identifies the best practices and methodologies using actionable analytics in order to optimize our budget and meet our KPIs goals. A respectable boutique agency that drives results in conversions using the most up to date and efficient ways.

Kiki Savvidou

CEO, oroloi.gr
Careful planning, data analysis and proper use of the bidding technology that both Google and Facebook ads platforms offer, were the key elements that drove our implementation to success.
The main focus of our bidding strategy was the consideration of the profit margins of each product. This, in conjunction with our efficient implementation across all CPC channels, led to increased sales and higher profitability.