Pizza Fan is a Greek pizza delivery company active since 1996, that has become one of the biggest franchises in Greece
Pizza Fan was determined to find more ways of maximizing the efficiency of YouTube ads. The company aimed to enhance user engagement through more personalized content.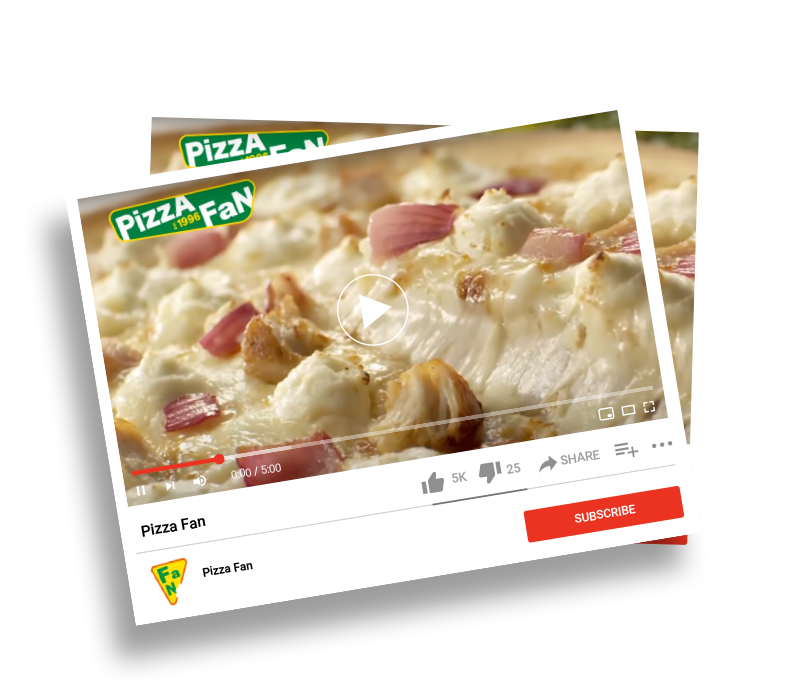 Director Mix, empowered with Google's advanced Machine Learning technology, gave us the opportunity to create different versions of video elements such as music, text, and photography to identify the best combinations for each kind of user automatically.
The process started with determining the target audiences, as well as their potential. This included thorough research and detailed demographics to find the right customers. The next step was the creation of personalized content, based on the characteristics and preferences of each target audience.
Having a foundation of videos, images, and music available, we made good use of all the possibilities that came with Director Mix and managed to create personalized ads for each of the 250 segments that we have identified. Most importantly, the videos weren't made manually, rather, with the use and intelligence of Director Mix. By adding each element to the right position in the "Spreadsheet", all videos needed were "generated" automatically, saving both the creative and campaign management teams a considerable amount of time. The final step was pairing each audience with the right ad.
In conclusion, 25 campaigns were created with 221 individual ads, and 441 ad groups were made with 16 different audiences, while 270 unique preferences were selected in targeting, with over 1,200 keywords.
Director Mix gave us the ability to show personalized video content to a wide range of users and helped in distinguishing the audiences that contributed to better results– while the efficiency of YouTube ads was impressively increasing simultaneously. 
KPIs for the YouTube campaigns in Director Mix:
Utilizing Google's advanced Machine Learning technology, we managed to achieve something humanly impossible, testing all the conceivable versions of video ads in different audiences in order to find the best composition for each one.
The results were imposing, leading to the improvement of all KPIs regarding video ads, while the campaigns maintained a strong impact on both online and offline sales.
Pizza Fan accomplished its main objective and continues to use this targeting strategy, along with all the data that emerged by this campaign, today.