Think  Performance
Achieve

your

strategic

e-business

goals

and meet your expected ROI

and exceed your expected ROAS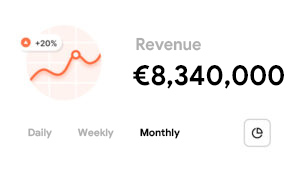 We strive to be ahead of the curve.
Our 360 performance & analytics-oriented approach is the cornerstone of our strategy. As for content, we assertively believe that it should be compelling, relevant & project-focused.
We work for results. Tracking, agility in execution, and a focus on metrics that matter drive our daily pursuit of building your brand and bottom line.
Testimonials
We've been working with Koolmetrix for almost a decade! Koolmetrix can-do attitude, experience and diverse data driven marketing ability is a huge asset for our company and Brand, they have proven to be dedicated, skilled, and more importantly, have shown to be fully invested in us as a company.

Stefanos Falkonakis

Chief Marketing Officer, Insurance Market
"Elite agency", "Top Class Team", "Performance Oriented". What Koolmetrix has achieved in our first year of working together is amazing. The team provided an exceptional level of digital performance on daily basis alongside some exclusive beta ads. In a short period of time we have made some critical changes and seen significant performance improvements that helped us reach 50% growth on Revenue. Their detailed, but also focused, reporting makes it easy to keep everyone up to speed and informed daily.

Costas Antaras

CEO, Pizza Fan
Koolmetrix is a great company with extremely high-performance levels and a great willingness to provide complete customer satisfaction. Their team is knowledgeable, responsive and committed to supporting our initiatives, making them invaluable partners in our effort to promote our brand awareness and drive traffic to our website.

Thanos Danilatos

General Manager, BrandsGalaxy
In our opinion Koolmetrix are the best in Greece. Their focus on OUR profitability and marketing ROI gives us the ability to grow profitably. Continuous improvements of campaign efficiency reduced our conversion costs and gave us a big competitive advantage. Highly recommended!

Sotiris Papantonopoulos

Owner, insurancemarket.gr
Undoubtedly one of the best in the field. Highly recommended.

Nicolas Minoglou

Owner, myshoe.gr
Koolmetrix is without doubt a top-class, performance oriented, MarTech agency. We have worked together on a series of projects, and they have always managed to outperform on their KPIs. Thus, being such a useful partner, I recommend them blindly

Fotis Antonopoulos

eCommerce & CRM Director, Tsakiris Mallas
Working with Koolmetrix exceeded our expectations. Koolmetrix is a performance-oriented agency that identifies the best practices and methodologies using actionable analytics in order to optimize our budget and meet our KPIs goals. A respectable boutique agency that drives results in conversions using the most up to date and efficient ways.

Kiki Savvidou

CEO, oroloi.gr
Working with Koolmetrix is an outstanding experience. Thanks so much for doing a great job!

Kostas Giannopoulos

Owner, Kostis Jewelry