Some days ago, Instagram announced an in-app checkout feature. Given that there are more than 1 billion users on the platform, it was about time for Instagram to launch a feature that will keep those users engaged without leaving the app.
Before that, users could find more information through the product tag on news feed posts and Instagram stories, which included a redirecting link to the merchants' website.
With this new feature, users will have access to a checkout button on the shopping posts, which will require few and necessary details from them, making the checkout process easier & quicker. Plus, users will get notified via email directly from Instagram when their order is shipped.
Currently, the feature is available exclusively for 20 top international brands. Here's the full list of launch partners: Adidas, Anastasia Beverly Hills, Balmain, Burberry, ColourPop, Dior, Huda Beauty, H&M, KKW Beauty, Kylie Cosmetics, MAC Cosmetics, Michael Kors, NARS, Nike, NYX Cosmetics, Oscar de la Renta, Outdoor Voices, Ouai Hair, Prada, Revolve, Uniqlo, Warby Parker and Zara.
This feature will undoubtedly benefit both brands and shoppers as the users are requested to share the most necessary information without having to sign-up for a new account, as they would typically do on an e-commerce website. Instagram explains that "With their protected payment information in one place, they can shop their favorite brands without needing to log in and enter their information multiple times," a fact that contributes to increased abandon rate.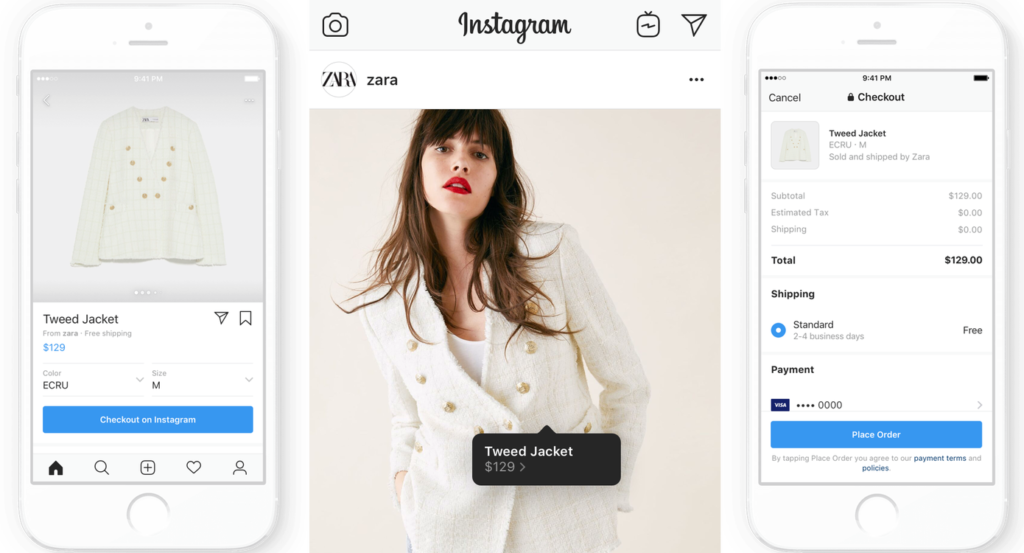 Picture credits: TechCrunch
Moreover, Instagram has set a selling fee for this service for each merchant, the amount of which has not been officially announced. Specifically, as a spokesperson from Instagram declared: " We are testing a selling fee with businesses during the closed beta. It will not change the price of the items for consumers."
Additionally, we can't overlook the fact that Instagram has opened a new stream on measurable Social Media ROI. The statistics also confirm that: 46% of B2B marketers claim they are not sure whether any social media channels have generated revenue from their business and only 13% of them believe they have quantitatively proven social media has had an impact on their business. (source: webbiquity).
The fact that sales will be included as measurable conversions via Instagram will allow managers and executives in charge to demonstrate actual results of their social media actions.
It is statistically proven that Instagram influences significantly buyers consideration. With this addition, we are really looking forward to observing how will it affect the users' behavior, as these results will definitely play an important role in the decision-making process of a well structured social media strategy.